Add some sparkle to your food
Hello Everyone,
I am so happy to be back with a recipe for you this week. Last week I sent out a newsletter asking for contributions for weekly recipes and lo and behold, within an hour of the newsletter going out I received a considerable donation via paypal from my very generous parents. I had forgotten they read my weekly blog. So this recipe and the next five will be brought to you via their generosity. I feel so grateful as sharing a recipe each week brings me loads of joy. Thank you Mum and Dad.
Coincidentally Saturday is my parent's 56th Wedding anniversary. Their continual love for each other is so lovely to witness and I feel grateful that that love spilled over onto us as children and now into our adult years. Their love and ability to have a good laugh together makes me smile from ear to ear writing this. I share with you photos of their wedding, our family on our first trip back to England in 1976 and our family in 2015 celebrating Mum and Dad's 50th wedding anniversary.
This week I have a sprinkle recipe. Well three actually. Sprinkles are an essential fridge staple. We have one or two in our fridge at all times. Perfect for pasta, salads, soups, on steamed veg and as a topping on bakes and lasagne etc. A few years back one of my colleagues wrote sparkle on the label of a pepita sprinkle I made so we have affectionately since then called our sprinkle, sparkle. Adding a bit of sparkle to your food does add another flavour dimension.
Brazil Not Parmesan
(Do you like my play on words here?)
Ingredients
1 cup brazil nuts
½ cup nutritional yeast
1 tsp salt
1 tsp garlic powder (optional)

Method
Place everything in a food processor and process until it resembles fine breadcrumbs.
Pepita Sprinkle
Ingredients
1 cup pepitas
½ cup nutritional yeast
1 tsp salt

Method
Place the pepitas in a dry frying pan and place it on the heat until the pepitas start to pop a little. Give it a shake from time to time. Remove from heat and put on a plate or tray to let cool down.

Once cooled place the pepitas in a food processor with the nutritional yeast and salt and process until it resembles fine breadcrumbs.
Gomasio
Ingredients
1 cup sesame seeds
1 tsp salt
Method
Place the sesame seeds in a dry frying pan stirring frequently until they brown. Remove from heat and put on a plate or tray to let cool down.

Once cooled place the sesame seeds in a coffee grinder and grind until they resemble a finae crumb (you may need to do this in 2 batches). If you don't have a coffee grinder use a mortar and pestle.

Put the ground sesame seeds in an air tight jar and mix in the salt.
# If you make this recipe please share on facebook or instagram to #veetsvegancookingschool
Looking for a Great Gift Idea?
If there is someone in your life who you think would love a great experience as a gift instead then look no further than a cooking class with me. From as little as a 30 minute individual cooking session to an hour's class or a couple of hours. Either online or in person (dependent on COVID restrictions) So many options, gift vouchers are available to treat your loved ones.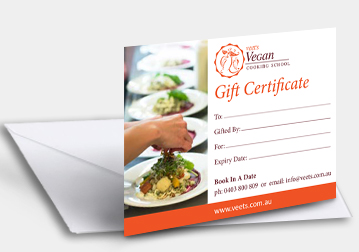 Stay at Home Special
Would you like to spend time in your kitchen making creative vegan food with me during your 'stay at home' time? If so I have a special on until November 30th.
Book in a 1 hour
Cooking & Nutrition Class
for $175.50 you invite two others along to join in the online course and share the price.
I will also extend that 1 hour class to 1 ½ hours.
Can't wait to work with you in the kitchen.
Food Analysis/Nutrition
Duration Food Analysis Plus 30mins online
Cost $195
This includes a consultation to see what macro and micro nutrients you are consuming with your daily food intake and what foods you need to include in your diet to ensure you are meeting the recommended daily intake.
VIEW MORE
Cooking & Nutrition Class
Duration 1hr
Cost $195
These sessions are completely tailored to your needs. Whether you are new to nutrition and vegan cooking or already have some experience, Veet can work with your level of knowledge and interests.
VIEW MORE
Cooking at Home with Veet
Duration You decide
Cost $249
Become creative in the kitchen and learn how to put together delicious vegan meals, from mains to dessert - all from the comfort of your own kitchen.
VIEW MORE
Have a wonderful week everyone.
Categories:Snacks/Sides
Tags:sesame seeds Pepitas brazil nuts Nutritional yeast
Related Posts
---