Cookbooks
Veet's has two self published gluten free books. Both books are printed locally by Mullumbimby Printworks keeping with the integrity of Veet's Vegan Cooking School efforts to remain local wherever possible.
Cook Well • Eat Well • Live Well
Buy Online below.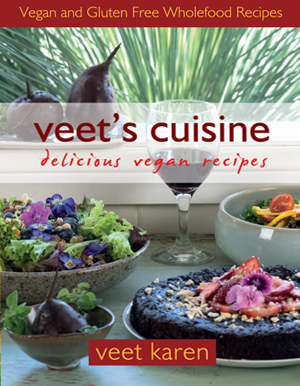 Veet's Cuisine
Delicious Vegan Recipes
The fourth and final edition of Veet's Cuisine is to be ready for sale on the 14th April. All one hundred and thirty recipes are gluten free and vegan. The recipes have been tried and loved by many. The recipes in Veet's Cuisine were inspired by the wonderful local produce available in the Byron Bay shire. The book is packed with loads of useful information, a protein guide, a simple guide on complete protein, an essential pantry list and some fun and interesting stories.
Price $40.00 AUD
Select postage option below. Total price of book plus postage is shown.
What people say
"Veet's cuisine is awesome! Easy to prepare - yet thought provoking meals that taste fantastic and feel amazing in your belly. This cookbook is well travelled- I take it with us on holidays and sleep overs just in case we need to feel her love." Justine, Power Yoga Canberra www.poweryogacanberra.com.au
"Absolutely loving Veet's beautiful spinach and ricotta lasagne! I made two big ones on Sunday and froze them so I can grab one when I'm too busy to cook. Decided to take one to uni yesterday and I think eating it was the highlight of my day. It smelt so good and the people around me were jealous of my meal. Thanks Veet." Katre Tattar
"I made the no-bake chocolate cake with the avocados, and my daughters love it! Finally, I'm getting them to eat avocados. We all love the raw cacao balls, too - great for their lunch boxes." Patsy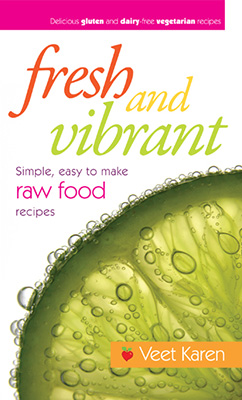 Fresh and Vibrant
Simple Raw Food Recipes
With over fifty gluten free, dairy free and vegan recipes that use the most simple of equipment, so everyone can create vibrantly fresh raw food. The recipes are lively and delicious, ones that you can use if you are going on a raw food diet or if you just want to add a bit more raw to your existing diet.
Price $20.00 AUD
Select postage option below. Total price of book plus postage is shown.
What people say
"Nourishing raw wholefoods made simplistic that take your palate on a journey that ignites the senses. Veet's recipes not only feed your body's vital force but educate people on the 'from earth to plate' mantra and build a healthy relationship with food and life. The cookbook is an absolute kitchen essential and will feed your family's optimal health levels. As a nutritionist this is the exact way of life I hope for all my clients to lead and this wholefoods bible helps them take their first steps to a wholefood way of life." Dayne Crocker, Nutritionist
"Delicious and nutritious! Veet has a creative way of putting together simple recipes that anyone can make that are highly nutritious and delicious. Raw food is 'alive.' If you want to increase your health and energy start including Veet's amazing raw meal recipes into your life. You are guaranteed to feel an increase in vitality." Natalie Purcell, Byron Bay Detox Retreats www.byronbaydetoxretreats.com.au
"Thanks for your inspirational books Veet. I've just finished catering another raw food and juice yoga retreat in Gippsland Victoria...a huge hit was your Super Sexy Dressing served with a salad full of the colours of the rainbow and the Coconut Curry Veggies with Cauliflower Rice. Thanks for sharing your love of life giving food." Vanessa Traill
Looking for a Great Gift Idea?
If there is someone in your life who you think would love a great experience as a gift instead then look no further than a cooking class with me. From as little as a 30 minute individual cooking session to an hour's class or a couple of hours. Either online or in person (dependent on COVID restrictions) So many options, gift vouchers are available to treat your loved ones.