Everyone can eat Vegan Lamingtons
Feeling Spontaneous
Last minute spot has come up in this week's
Vegan Foundation Course
. Who is ready for some spontaneity and wants to take the jump and join in this 3 days of wonderful cooking? You will take home not only incredible food but more than 60 recipes, a cook book and a big manual full of really good information, along with loads and loads of tips and tricks to make life in the kitchen a whole lot of fun. Please
email me
if you want to snap up this spot.
A Messy Affair
Making lamingtons is a messy affair but worth making a mess for.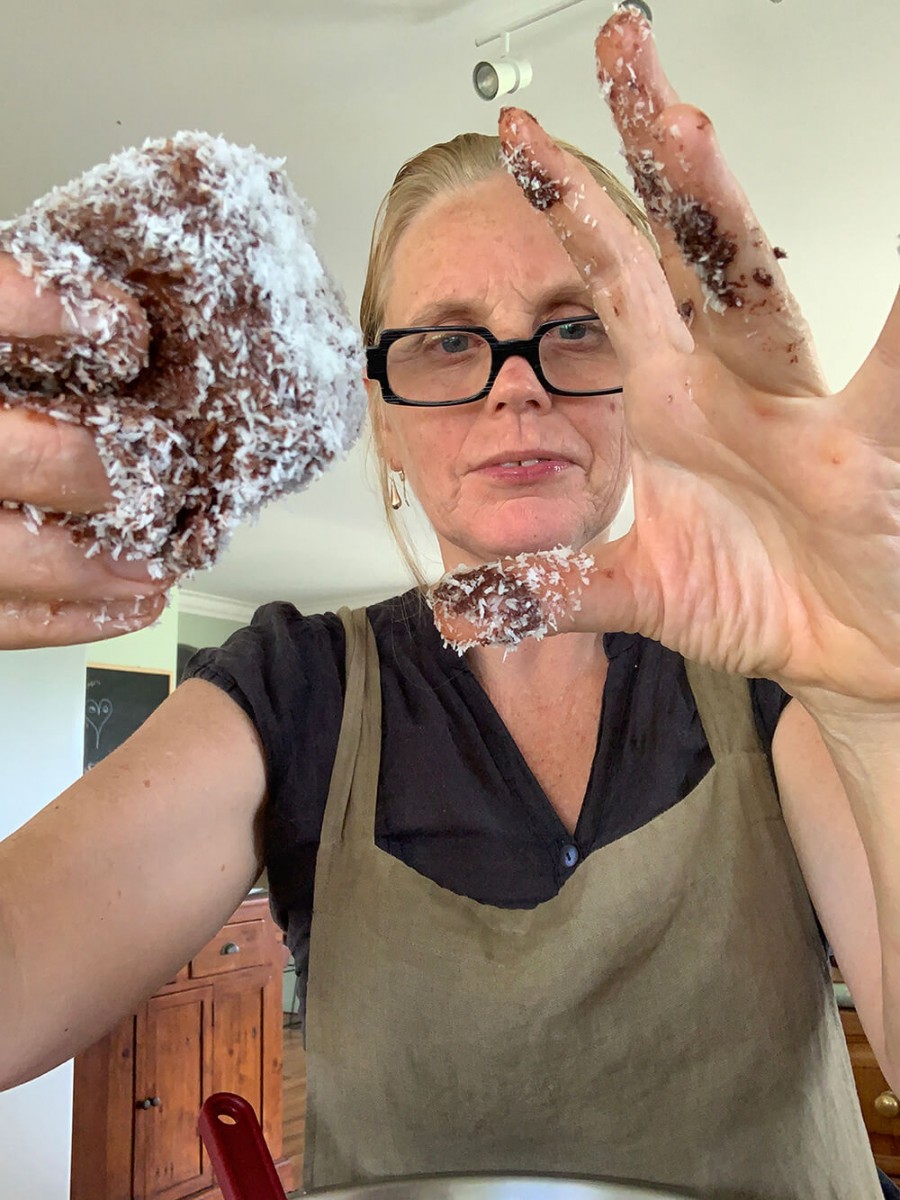 I was never a lamington fan, Mak had never had one until 3 days before the Northern Rivers floods, where on my way home from Tenterfield I stopped in at
Space Bar Gelato
where I feasted on a vegan pie and a smoothie made with the best vegan ice cream and bumped into a friend I hadn't seen for many years (love you Sophie) and then I left with the fluffiest looking vegan lamington for Mak to try.
After posting on the socials about how good the lamington was a friend (Tony- thank you) challenged me to make a Davidson plum lamington. Well I rose to the challenge using recipes from our Vegan Chef Training and
Rainbow nourishments
.
It was actually fun making the lamingtons. I baked the cake on the Saturday and on Sunday filled them with the best ever Davidson plum jam from
Organic Forrest
set them in the fridge for a few hours then had fun coating them in chocolate and coconut.
Before I share with you the recipe I would like to do a shout out to Space Bar Gelato they are a very small business run by Kash and Jahli. They have worked super hard making gelato for the last 7 years and on the days before their 1st anniversary of setting up shop in Lismore they made preparations and moved all their equipment and furniture out of their store, it was a massive job. They moved it to storage space on the 2nd floor, little did they know that this flood would surpass any flood water that has ever hit Lismore and they lost the whole lot, all their equipment and furniture. So if you have any spare money left for donations I know Kash and Jahli would be most appreciative. Here is their
go fund me page
.
Vegan Lamingtons
These are not gluten free. If you would like to make them gluten free use 1½ cups almond meal and 1 cup gluten free self raising flour and ¼ tsp xanthan gum. Make the sponge the day before coating. Fill the sponge with jam a few hours before coating.
Ingredients
2½ cups self raising flour
1¼ cups white sugar
1 tsp baking powder
Pinch salt
1 ½ cups soy milk
1 tbsp apple cider vinegar
½ cup vegan butter
¾ tbsp vanilla extract
Up to 1 cup of Davidson Plum jam (or strawberry jam)
For Chocolate Coating
1 cup vegan chocolate buttons or finely cut chocolate
¾ tin of coconut cream
Pinch salt
3½ cups desiccated coconut
Method
Set oven at 180°C and line a 30 cm x 20 cm (or thereabouts) baking tray with baking paper.

Place the soy milk and apple cider vinegar in a bowl and let sit for 5 minutes to make a butter milk.

Sift the flour, baking powder and salt into a bowl.

Whisk the butter, sugar and vanilla extract until pale and fluffy.

Fold the sugar mixture gently into the flours and add the soy buttermilk until all combined.

Pour into the baking tray and bake for 25-35 minutes or until a skewer comes out clean. Remove cake from tray and paper and put on a cooling rack. Once cool wrap up and put in the fridge overnight.

The next day, cut the cake in half vertically and trim off any round bits using a serrated knife (you want to put one half of the cake on top of the other so you want it to sit evenly that's why you take off any cake that has risen too much). Spread one half of the cake with a generous amount of jam and put a thin layer on the other half. Set the cakes on top of each other with the jam sides touching.

Cut the cake into 12 pieces or however big you want the lamingtons. And put back in the fridge for a couple of hours.

For the topping; in a metal bowl sitting on top of a saucepan with boiling water melt the chocolate, add the pinch of salt and stir in the coconut cream until combined. Take off the heat. Place the desiccated coconut in another bowl and prepare to get messy.

Dip each lamington into the chocolate first making sure all sides are covered and tapping off any excess, then roll in the coconut. Repeat with the remaining lamingtons.

Set in the fridge for 1 hour for the chocolate to firm up.
# If you make this recipe please share on facebook or instagram to #veetsvegancookingschool
New Offering Being Launched Soon
I will be offering a one day cooking and information class on foods for peri menopause, menopause and post menopause. The classes will be offered in person and online. If you are interested please email me and I will put you on the mailing list for when I launch the dates.
Last call out for the Vegan Chef Training
I will be running Module 2–5 of the Vegan Chef Training in May this year and I have
one place left
. These courses wont run again unit late 2023. Enrollments for this course
close on the 20th April
so if you are still thinking about joining in please contact me soon.
Have a wonderful week everyone.
3 Day Foundation Course
Duration 3 Days
Cost $1,086
In this 3 day course, we will cover the fundamentals in vegan cooking and nutrition. The class is hands on and you will immerse yourself in three full days of vegan organic cuisine.
VIEW MORE
Vegan Chef Training
Duration 6 weeks
Cost
In-Person
$10,413 | Online $9,980
Gain professional chef skills, get hands on training experience, and work with organic and locally sourced plant-based produce in the biggest growth market in food today: Vegan Cuisine.
VIEW MORE
Categories:Sweets
Related Posts
---