Lots of courses on offer
I have made up for my tardiness though of missing a week by including some very valuable information on potatoes and their nutrients and how to cook them. Investing eight hours to do this blog this week rather than the usual four.
Here are some photos from the recent Vegan Foundation Course.
Why Potatoes are Good for You and Which Potatoes to Buy
Wow my friend the potato really got some bad rap some years ago. I even bought the whole garbage that potatoes were bad for your health and stopped eating them for a whole year. Can you believe it, a whole year without potatoes. It is now unfathomable to me. Potatoes are the bomb in my opinion. I know some people struggle with them as they are a nightshade but nightshades definitely are not bad for everyone and actually have some really good nutritional benefits. I love my spuds and stopping eating potatoes was a big lesson on not believing everything I am told.
So this week I am singing the praises of potatoes from the rooftops and I have detailed the uses of the potatoes we get here in Australia. How country centric of me. I would like to add to this list so if you have a potato that you use regularly in countries other than Australia please send me the names of those potatoes and I will add to my research and to this list I have here.
Health Benefits of Potatoes
Potatoes boast a whole list of health benefits; here are just some of them. Potatoes are packed with nutrients. 100g potatoes contains 16% of recommended daily intake of Vitamin C, 11% of calcium, 10% of potassium and 10% of B6. B6 is important for metabolizing protein, carbs and fats in the system and for creating red blood cells and also neurotransmitters. Potatoes also contain other B vitamins like niacin, thiamine and riboflavin which all help regulate the nervous system.
Potatoes contain antioxidants some of which are known to suppress liver and colon cancer cells. Potatoes especially when eaten cold contain resistance starch that helps with gut issues, immunity and regulating blood sugar levels.
What Potato to use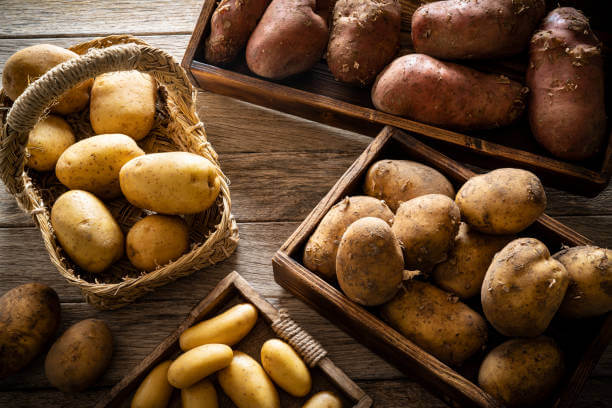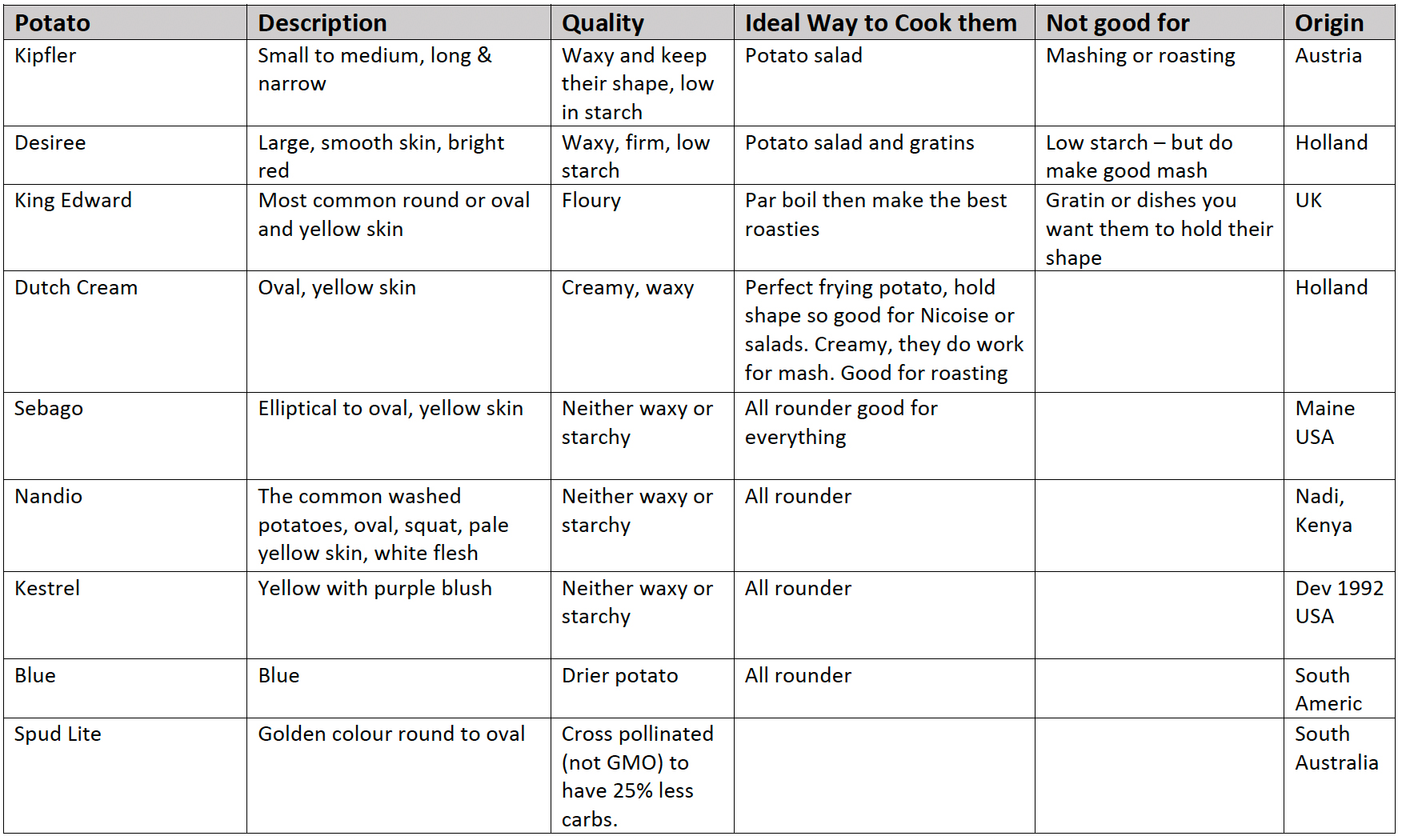 Enjoy this salad Nicoise recipe knowing that the potatoes in it are playing an integral part in maintaining your health and if you can't eat potatoes use sweet potato or pumpkin instead. My partner's mother used to make a salad Nicoise for him most weeks he would visit her and I only realised recently that I could veganise it and make it super mega good in doing so. I think this salad can be served in all seasons, swapping out the lettuce in winter for cooked spinach and cooking the tomatoes and serving the beans warm.
Please send me your photos when you make this recipe and also share the link of this recipe with all your friends.
Salad Nicoise
Ingredients
1 block tofu
2 tbsp nutritional yeast
2 tbsp sunflower or avocado oil
Juice ½ to 1 lemon
1 tsp black salt
1 large or 2 small cos lettuce or rocket
3 Dutch cream or Sebago potatoes, medium, ideally not peeled but for a good looking salad peel and cut in rounds and boil for 10 minutes or until tender, let cool
1 chilli sliced (optional)
1 can jackfruit
1 tbsp chopped capers
1 sheet nori roll
Green beans cut in half and steamed
½ to 1 cup black or Kalamata olives
2 spring onions sliced
12 cherry tomatoes sliced in half
Dressing
Juice 1 lemon
2 tbsp white wine vinegar
3 tbsp olive oil
1 tsp Dijon mustard
1 clove cooked garlic minced
Salt and pepper to taste
Method
Cut the tofu into small squares then marinade in the nutritional yeast, black salt , lemon juice and oil and let sit while you cook the beans and potato.

Strain the jackfruit from the tin and break it up so it looks like shredded tuna, mix with the capers and mayonnaise and scrunch up the nori roll into tiny pieces and also mix that with the jackfruit along with salt and pepper to taste.

To make the dressing place everything in a jar and shake well.

Fry the tofu in the marinade until the tofu soaks it up and the tofu starts to brown a little.

To assemble the salad you can put the jackfruit in the centre of a platter then surround it with the washed lettuce and pile on the tomatoes, olives, chilli, green beans and potatoes and top with the cooked tofu pieces. Drizzle on the dressing or serve on the side.
# If you make this recipe please share on facebook or instagram to #veetsvegancookingschool
Tofu and Miso
The tofu and miso making course will go ahead on the 19th March. I am so excited as it is a great 5 hour class and making your own miso and tofu takes life to the next level. Miso is a fermented food which is good to include in your diet on a daily basis and tofu is a fabulous food for adding complete protein into your diet as well as phytoestrogens, is packed with nutrients including zinc, iron and calcium. Can't wait to work with Kiriko to show you how to make the best tofu and miso I have ever tasted. Two more spots left.
Have a wonderful week everyone.
With love Veet
Tofu & Miso Class
Duration 4.5hrs
Cost $320
Learn how to make Tofu and Miso from scratch. It's a hands on class where you get to take home what you make. You also get morning tea and a tote bag full of goodies. A workshop not to be missed.
VIEW MORE
Vegan Chef Training
Duration 6mths-1year
Cost $10,413
Gain professional chef skills, get hands on training experience, and work with organic and locally sourced plant-based produce in the biggest growth market in food today: Vegan Cuisine.
VIEW MORE
VIP Package
Duration NA
Cost $1200
Feel confident with your meal planning and cooking whilst meeting all the dietary requirements you need in order to live a healthy life.
VIEW MORE
Categories:Mains
Tags:Tofu Potatoes green beans lettuce
Related Posts
---