My Favourite Sunday Morning Breakfast Recipe
What is your favourite breakfast? Mine is an Indian dish that comes from the state of Gujarat. One of the things I really look forward to when I go the the
Osho Meditation Resort
in India is that I know I will get to eat poha for some of the breakfasts while I am there. In recent years it has been served every three days. The breakfasts that were served on the other days were delicious too but I must admit for me they paled in comparison to poha.
The morning I arrived in the resort this July poha was being served. I did a little jump for joy thinking how lucky I was that I had arrived on the day out of three that poha was available. Then two days later I got an even more exciting surprise, poha was now available every second day. In my twenty six day stay I got to enjoy poha 13 times. What an absolute treat.
Poha is a flaked rice dish with small pieces of potato, peas and often some peanuts. When I first moved to the Byron Shire I used to make a drive up to Brisbane every six months and pick up enough flaked rice from the Indian shop in Fortitude valley to make poha every Saturday morning. This only lasted a few years as I then decided in my all organic diet having non organic flaked rice each week was not really a good idea.
These days when I decide to make poha I use organic rolled brown rice. It certainly isn't the same as when making it with flaked rice but it is equally as delicious.
I use pecans instead of peanuts and fry the potato instead of using boiled potato and serve it with coconut yoghurt.
If using rice flakes follow the recipe for how to prepare them below. If using rolled rice like I do then bring a saucepan of filtered water to the boil then add the rolled rice and cook for five minutes or until it's tender. Drain and then cool while following the rest of the recipe.
Hope you enjoy this recipe and please do let me know if you make it and better still post a pic of it on instagram and #veetsvegancookingschool
Poha
A note regarding rice flakes and rolled rice. There can be a little confusion as some of the rice flakes in Australia are labelled as rice flakes and they are actually rolled rice. You can use either rolled rice or rice flakes for this recipe. The difference is rice flakes are flat and quite soft. Rolled rice is hard and not so flat. Hopefully the photos will help you work out which ones you have.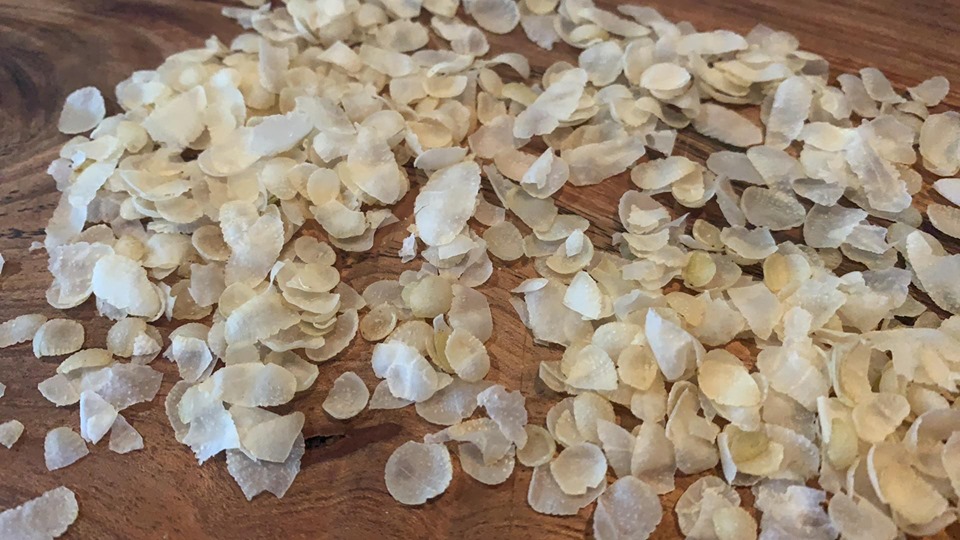 RICE FLAKES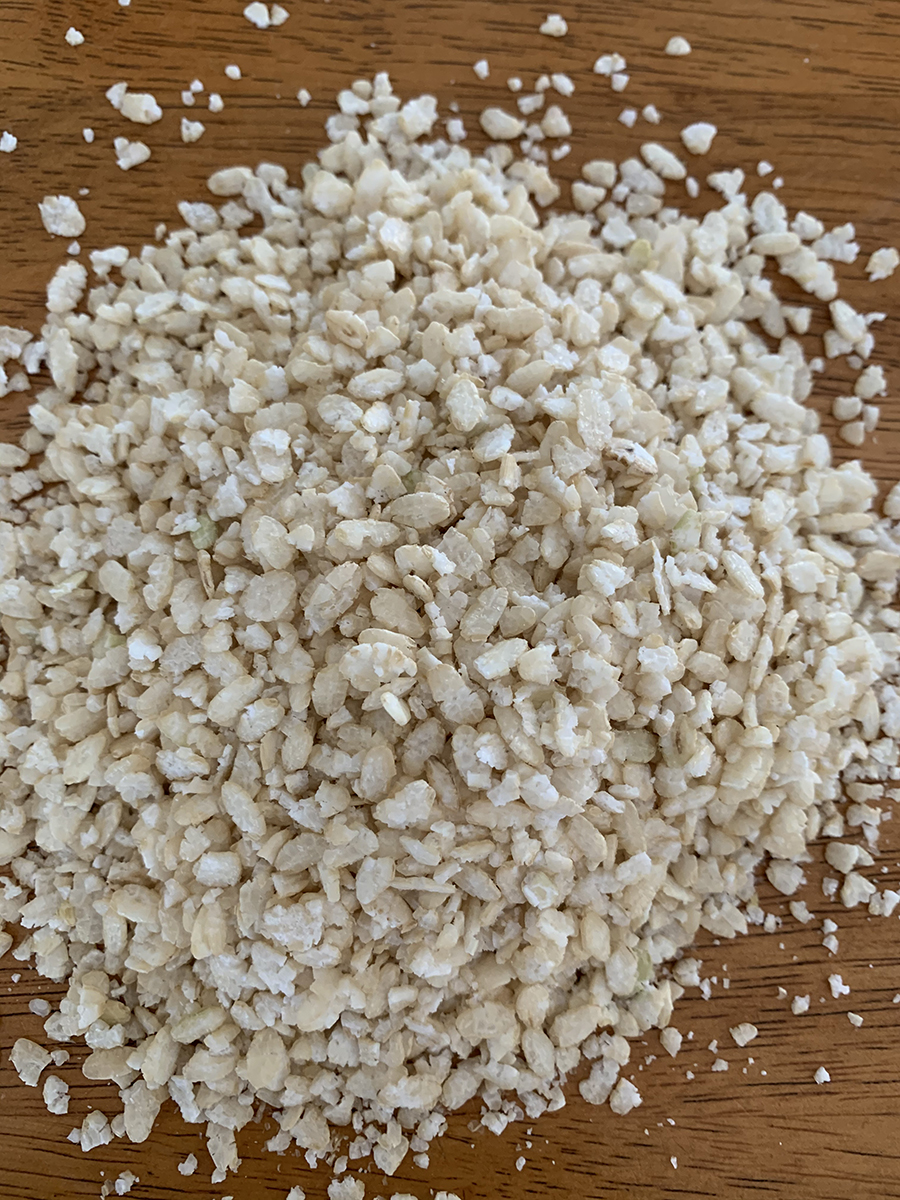 ROLLED RICE
Ingredients
1 cup medium rice flakes (or rolled rice)
1 tsp cumin seeds
2 tbsp cashews or pecans
2 tsp freshly grated ginger
½ tsp turmeric powder
10 curry leaves
1 cup fresh peas or green beans thinly sliced
Salt to taste
1 chilli (optional)
1 potato brunoise
Unrefined sunflower oil or avocado oil
1 cup coriander leaves
Big squeeze of lemon juice
Method
Rinse the rice flakes in filtered water and let strain (if using rolled rice bring a saucepan of filtered water to the boil then add the rolled rice and cook for 5 minutes or until it's tender).

Fry the potato in as little oil as you can get away with and sprinkle on salt.

When the potato is almost cooked add the fresh ginger, some salt, cumin, curry leaves, turmeric and nuts.

Cook for a further two minutes. Steam the peas or beans. Stir the rice flakes or rolled rice in with the potatoes until cooked through.

Add the steamed beans and garnish with the coriander. Squeeze on the lemon juice and taste for salt.
I was given the recipe to follow from a good friend Agar who got it from one of her friends in Pune. On a recent visit to Pune I found out that the friend who gave Agar the recipe is also a beautiful Indian woman who I have known for twenty-two years so I loved how this recipe originally came from her. Thanks Sereka.
# If you make this recipe please share on facebook or instagram to #veetsvegancookingschool
What's Stopping You?
Many people tell me they would like to make the jump to following a plant based diet but either feel they would find it difficult to know what to eat or are afraid they wont get enough nutrients in their diet or find it difficult to follow when their families don't want to make the change. All of these issues get addressed in my
three day course
, that's the reason why I run it. Of course I do love running the course and I love teaching cooking and that is also a reason for offering these courses. However the primary reason I run the courses is to help make it easy for those people who really want to start cooking healthy and delicious plant based foods showing you how to get all that you need from the food you choose to put in your body.
I am curious to know if any of my blog readers would like to start eating a plant based diet but there is something stopping them from doing it. I am curious to know what might be stopping you and if there is anything I can do in the way of assisting either through my teaching or my blog posts. Please let me know
via email
I would love to hear from you.
Free Iron Rich Ebook
Last week I mentioned my free iron rich eBook and I got quite a few emails from people who had signed up for my blog ages ago and couldn't find what they had done with the free iron rich eBook. If you are another person who can't find it
please do email me
and I will send you a copy. It's too good to not share with you all.
Have a fabulous week everyone, cooking up delicious plant based food.
With love Veet
Categories:Breakfasts
Tags:rice flakes Cashews peas
Related Posts
---