We did it, they did it!! What an achievement the second year of the vegan chef and lifestyle training has come to an end culminating in a magnificent graduation ceremony where the nine graduating chefs showed off to 55 people their skills in making delicious food. They worked hard to develop the menu, test the menu and then execute the menu and I feel they did a brilliant job. The ceremony was intense for the students as they had to get food out fast and they had developed an ambitious main with lots of components but you guessed it, they did amazingly.

I had fun watching everyone enjoying their food and I felt so proud of their achievements. Paul Pritchard the master of ceremonies kept the whole event running impeccably and on time and he wrote a cute little poem for each student which was a real highlight.

We had music played by Geash Bowler and accompanying the meal the magical Shai Shriki played live music which was like the icing (or caramel popcorn and praline) on the cake. I am still beaming from ear to ear about the whole day and reliving the many classes we had over the last 3 months. It was intense, it was delicious, it was a wondrous time of being in the kitchen on a daily basis learning and cooking and developing recipes as well as going out on work experience. What a great course it is even if I do say so myself. A course I would have loved to have attended myself when I first started on my cooking career

To top things off Vivienne of our local paper the Echo found out for us that we really are the only vegan chef training in Australia, so any thoughts of early retirement have gone sailing out the window as this work needs to be shared and people need to learn what I am sharing in order to set up wonderful vegan businesses that smell and taste only of integrity (and of course exceptionally good food).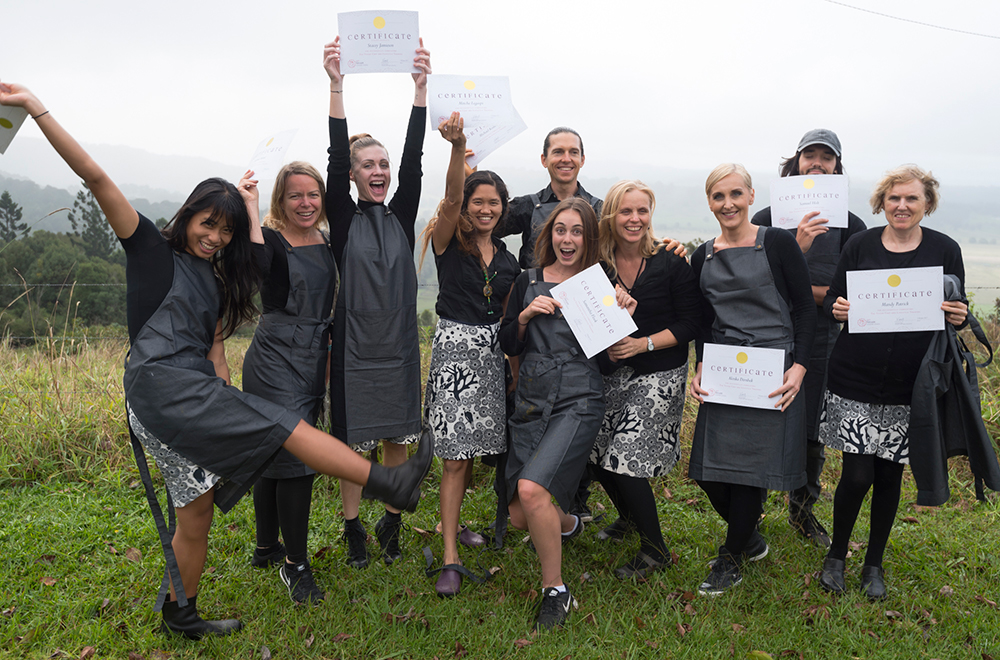 A huge congratulations to Amanda, Paung, Sam, Sammie, Mandy, Metchie, Michael, Stacey and Alenka for such hard work. In up coming weeks I will let you know what they will all be getting up to as new chefs out in the vegan world.

As a way of congratulations and saying thanks to you all for hanging in there while my blog posts have not been consistent I will share with you the recipe for the gorgeous brownie they made for the graduation. This brownie was a recipe they adapted from a book called Raw.
Brownies
1/3 cup ground chia seeds
3/4 cup filtered water
800g cooked black beans
up to 1/2 cup raw cocao
1/4 tsp sea salt
200 g vegan chocolate chopped finely
1/2 cup gluten free flour
3 tbsp melted coconut oil ( a bit more if mixture feels dry)
3/4 cup coconut sugar
1tsp aluminium free baking powder

1. Mix the ground chia seeds with the water
2. Place black beans in food processor and process until forms a paste.
3. Place the rest of the ingredients in the food processor and whizz until mixed.
4. Put the mixture in a square cake tin and bake at 175 c for up to 40 minutes or until brownie cooked through.
3 Day Training in August September 2017
If you would like to learn more about the vegan chef and lifestyle training or about the three day course please check out all the information on my website. The next full training will start in 2018 with the three day course that anyone can attend as a one off course will be held in August and September this year.

Would love so much if you share this recipe through your social media. Have a great week everybody.
Categories:Sweets
Tags:chocolate brownie
Related Posts
---